Jac's Opens in NYC's Noho Neighborhood
Jac's on Bond takes over the space that used to be the Smile.
Photo: Joe Schildhorn/BFA.com
This weekend, Jac's, a new bar and restaurant, opened to the public in the space formerly occupied by the Noho institution the Smile. To celebrate, the owners hosted an opening party last week, inviting some famous friends (and this reporter) to help, I suspect, assuage any lingering concerns over the new direction.
"A lot of people think we're sad about closing the Smile," said Carlos Quirarte, one of the owners, "but we're just happy to do something new." Jac's is still run by Smile guys — Quirarte, Matt Kliegman, and Matt Charles of Authentic Hospitality — who are also known for several celeb-linked nightlife hot spots like Ray's on the Lower East Side (where Justin Theroux is a partner) and the uptown Pebble Bar (part-owned by Pete Davidson). I anticipated a few famous faces at Jac's, and indeed, upon entering, the very first person I saw was Trevor Noah, so I texted my mom, a big Trevor fan, to tell her he was there. (Only then did she deem the party "officially cool.") The famous guy most known for partnering with Authentic, however, is Nicholas Braun, a.k.a. Cousin Greg from Succession. While Braun is hardly the first actor in New York to get into the hospitality scene, it's quickly become an essential facet of his lore; spotting his tall silhouette outside Ray's has become a regular part of LES nightlife. I asked him how he got into it in the first place: "I was with my friend Jon Neidich, one of the guys at Ray's. He and I were up late on the Fourth of July — up very late — and toward the end of the night he started telling me about a bar he was opening." Braun says he essentially begged to be brought on as an investor. "It's just so fun, y'know? You have a place to meet people and drink tequila-sodas for free."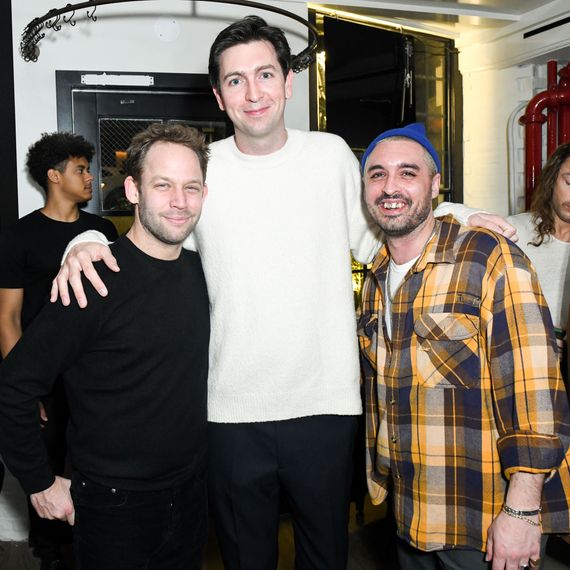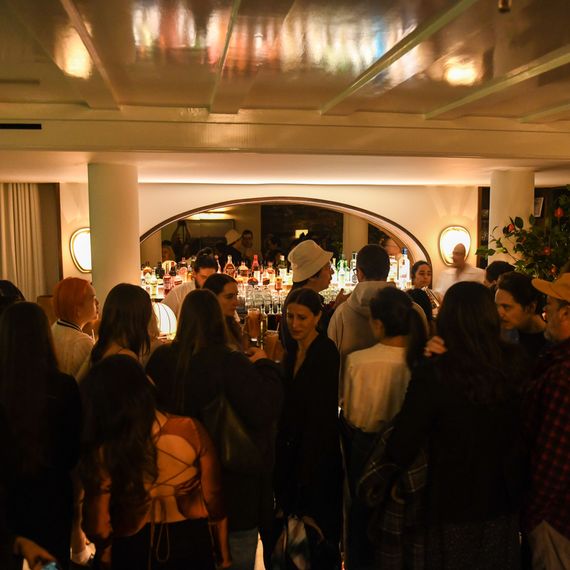 I asked Braun if he'd tried the caprese martini, a tomato-, olive oil–, and balsamic-flavored interpretation of the classic, that is new at Jac's and also — believe me when I say this — shockingly delicious. He confessed he's not much for any signature cocktails: "I'm more of a tequila-soda kind of person, just extremely basic." When mixing drinks on his own, he keeps it similarly simple: "Y'know, one alcohol, one carbonated beverage is kind of the extent of my drink-making abilities. I'd love to learn how to make a martini, but I don't think I have the equipment." I told him it's not that hard. "I'll get there someday, but I'd rather pay for now."
Food at the new spot is being overseen by Jeremiah Stone and Fabián von Hauske Valtierra, who consulted on the menu and who run Wildair and Contra nearby. It's smaller bites (artichoke-and-crab dip, meatball skewers) that are in keeping with the casual vibe. For the party, I conducted an extra-careful survey of the sartorial choices in the room: lots of black, which is to be expected, and also, less expectedly, blue. French blue, to be exact, all of it on men. I noticed at least three work jackets in the hue over the course of the evening, and clocked that it was always a specific type — a man over 30 with ties to famous people — who opted for the chore coat in question.
The staff outfits were designed by AWAKE NY's Angelo Baque, and the space itself is from designer Christine Gachot, who noted the new spot has big shoes to fill. "Everybody in New York has a story at the Smile," she said. "A first date, a breakup — there's a lot of history." (I had to agree; one of my own most memorable dates was a brunch there almost seven years ago.) Gachot went on to explain that she wanted the design to evoke the downtown of the '90s: Sleek, sexy, fun, exclusive. To that end, Jac's has already hosted a couple Fashion Week parties (Rodarte, Saint Sintra), and when I mentioned that I'd seen some partygoers dancing on the pool table at one of those events, Gachot smiled. "I love that," she exclaimed. "That's exactly the vibe."